About Us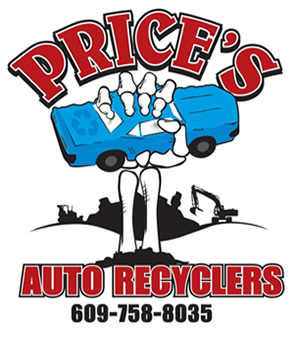 Serving our customers since 1979
Price's Auto Recyclers and NJ Scrap Metal and Recycling started operations in New Egypt, New Jersey in 1979 as an auto recycling yard.  The business bought and sold new and used auto parts until 2004.  At that time we decided to change the business structure.  Price's began concentrating on purchasing scrap metals.
The business bought both ferrous and non-ferrous materials including car bodies, loose metal, light iron, aluminum, copper and brass. 
Today the business is still owned and operated by Bill and LuAnn Price along with the management skills of Ryan Price . As our business grows we have opened a brand new office and have a state of the art truck scale to weigh materials. We try to be both professional and efficient while paying the highest prices possible for material. In addition to buying metals, we offer on site scrap removal and container service. We provide fast, friendly service. We value our customers and want them to be treated right!
Thank you, Bill
FAQs - Frequently Asked Questions
Below are the most frequently asked questions we have received. If you question is not below, please contact us by using our CONTACT FORM or EMAIL.
Do you sell auto parts?
No, we do not sell any auto parts or metals to the general public.
Is your business 'GREEN'?
Price's Auto Recyclers is dedicated to recycling your materials in a safe, efficient and environmentally responsible manner that complies with federal, state and local laws.
What is 'Lite Iron'?
Lite iron is any type of metal 1/8th inch or lighter. This would include items such as household appliances, lawn mowers, pools (without liner), metal swing sets, etc.
When are you open?
Monday-Friday: 8AM to 4PM
Saturday: 8AM to 12PM
Sunday: CLOSED
Do you have a pick up service?
We can pick up cars, but you need to call for a price as that is different than the board price. We can also arrange for container service where we drop off a container and you fill it.
How are customers paid?
We pay cash or check for all scrap.
WHat is the difference between #1, #2, and Bare Bright copper?
Bare bright copper is shiny wire that meets diameter specifications , while #1 copper is shiny, clean copper pipe. Any copper that is tarnished or has non brass solder marks on it will be considered #2 copper. There can be no brass at all on copper.
WHat is the difference between #1 Prepared and #2 Unprepared Steel?
Steel that is 5 ft in length or shorter and 18 inches in width or smaller is considered #1 prepared. Steel that is longer than 5ft in length and wider than 18 inches is considered #1 unprepared. There is a deduction for non-metal parts on prepared and unprepared steel.
Is there anything you do not accept?
Due to safety concerns and state and federal regulations, we cannot accept the following:
Free-flowing liquids - gasoline, oil, paint, anit-freeze, water
Non-metallic materials - garbage, wood, concrete, plastic, glass, cardboard, dirt
Radioactive materials - military scrap, medical scrap
Scrap containing residue from hazardous materials/waste - freon, mercury, cadmium, asbestos, CFC's, PCB.s, PCB containing ballasts, PCB containing capacitors, PCB containing transformers, Automobile air bags, mercury switches, appliances containing refrigerants.
Computer monitors, televisions, and anything with Cathode Ray tubes
Explosives of any kind
Corrosive material
Poisons, infectious materials or chemicals, medical scrap, fertilizers
Flammable materials, gasoline, kerosene
Chain link fence
We do not accept compressed gas cylinders such as propane tanks
We also do not accept tires.